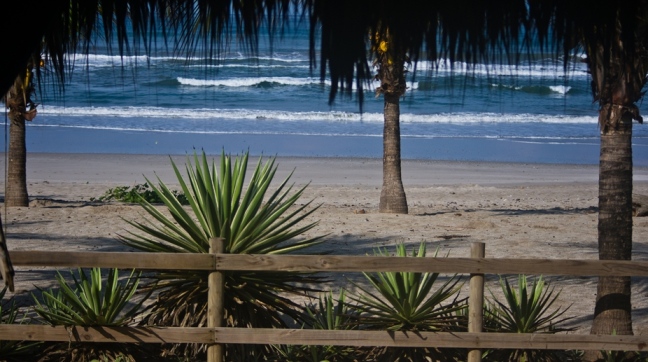 We honeymooned in Costa Rica and it was an incredible experience. South America was unlike any other culture we'd ever experienced before. From San Juan, a city of patchwork aluminum roofs and stray dogs, we took a 5 hour taxi ride to the small town of Santa Teresa on the Nicoya Peninsula. This little surf town was lush with vegetation and less impoverished than towns we had just driven through. The food was out of this world, seriously, we ate surprisingly well and it was rather diverse cuisine.
Unfortunately, our pictures are a little limited since my camera (and our laptop) were stolen from our bungalow the Friday before we left. It was FULL of wonderful pictures I'm still so heartbroken we lost it. I don't want to give this country any negative PR because we'd go back in a heartbeat, but we obviously didn't blend in as much as we thought. It's a lesson learned I guess and now we'll be sure to use the safes in our room when we travel!
Having said that, I will say the people that live here, a seemingly low maintenance, low income society, appeared incredibly in love. We took an hour and half ferry from Puntarenas to get to Santa Teresa and it was full of locals who showed such compassion and affection towards each other far beyond what we see in everyday life in the U.S.
We vacationed in late May and the temperatures were HOT. Perfect for baking on the beach! The only time it rained while we were there was at night and the sound of the rain on our aluminum roof along with the lightning over the ocean was intense – some of the biggest storms we've ever been through. By the morning the beaches looked untouched and perfect!
Everything was in walking distance. The market was 5 minutes from our hut and restaurants were no more than a 30 minute walk. The downside was the smelly, dusty, mud road that we walked on to get to dinner. All the restaurants were open and we met many fun people who we thought were American until they spoke. Santa Teresa is a town of many cultures. We were shocked by the amount of Europeans, Australians,  Argentinians, Canadians etc. who had uprooted themselves from their home to live permanently in this country.
We took a fantastically fun surfing lesson, however our performance was amateur so we'll post a picture of this guy and pretend it's Steven.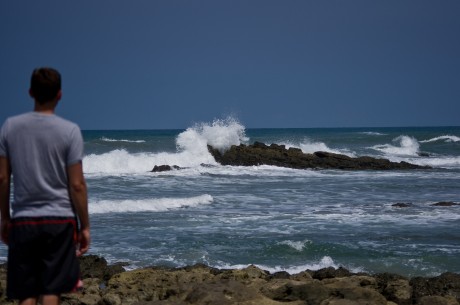 Hello howler monkeys, these guys are loud! At dinner one night all you could hear were the monkeys in the mango trees. We completely expected them to jump on our heads that evening but they kept their distance, although a close up shot would have been great!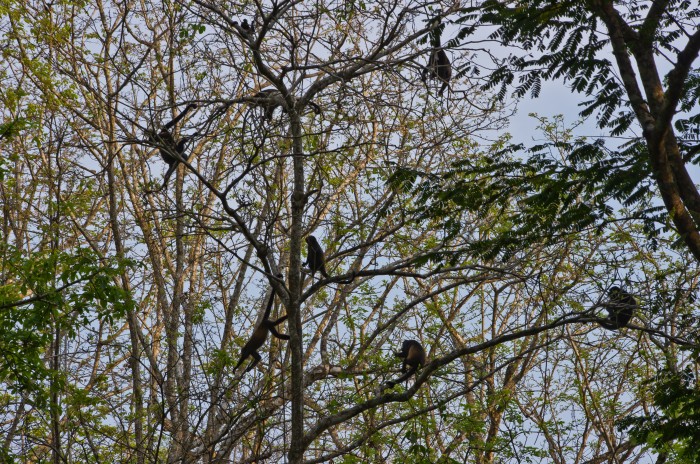 On Wednesday we went hiking in Montezuma. The drive was about 40 minutes, dirt roads the whole way on the edges of farm land, absolutely gorgeous countryside. After a short hike we reached a series of falls. We visited Costa Rica in the rainy season (because the rates were cheaper!) so the water surrounding the falls was very brown – picture chocolate milk with a little too much milk and that's what this looked like. Regardless, Steven dove in and perched himself on a ledge underneath the falls. The water looked funky but such an awesome experience.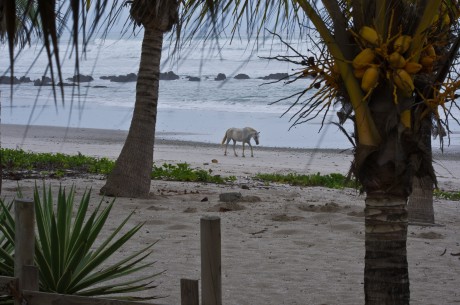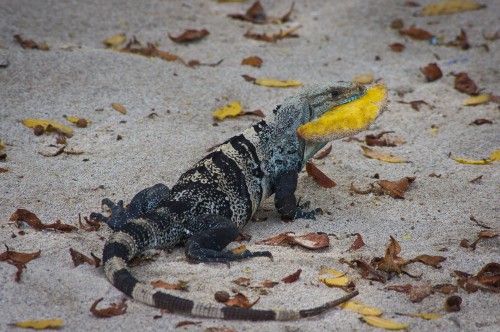 As usual we tote around our trusty tripod for quick little photo ops like this! I think in this picture we are watching, waiting for the wind to blow over our camera…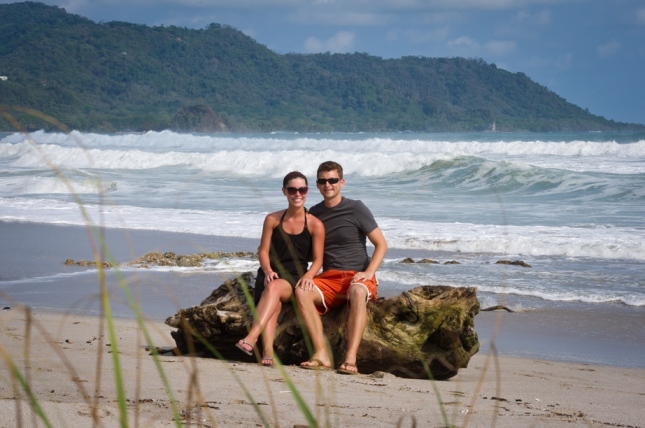 What we will remember about Costa Rica: Beautiful weather, pink sunsets, monster waves, fresh fruit cocktails, the mixing bowl of nationalities, the very friendly stray dogs and the simple way of life that we could easily live, at the water's edge… "Pura Vida"